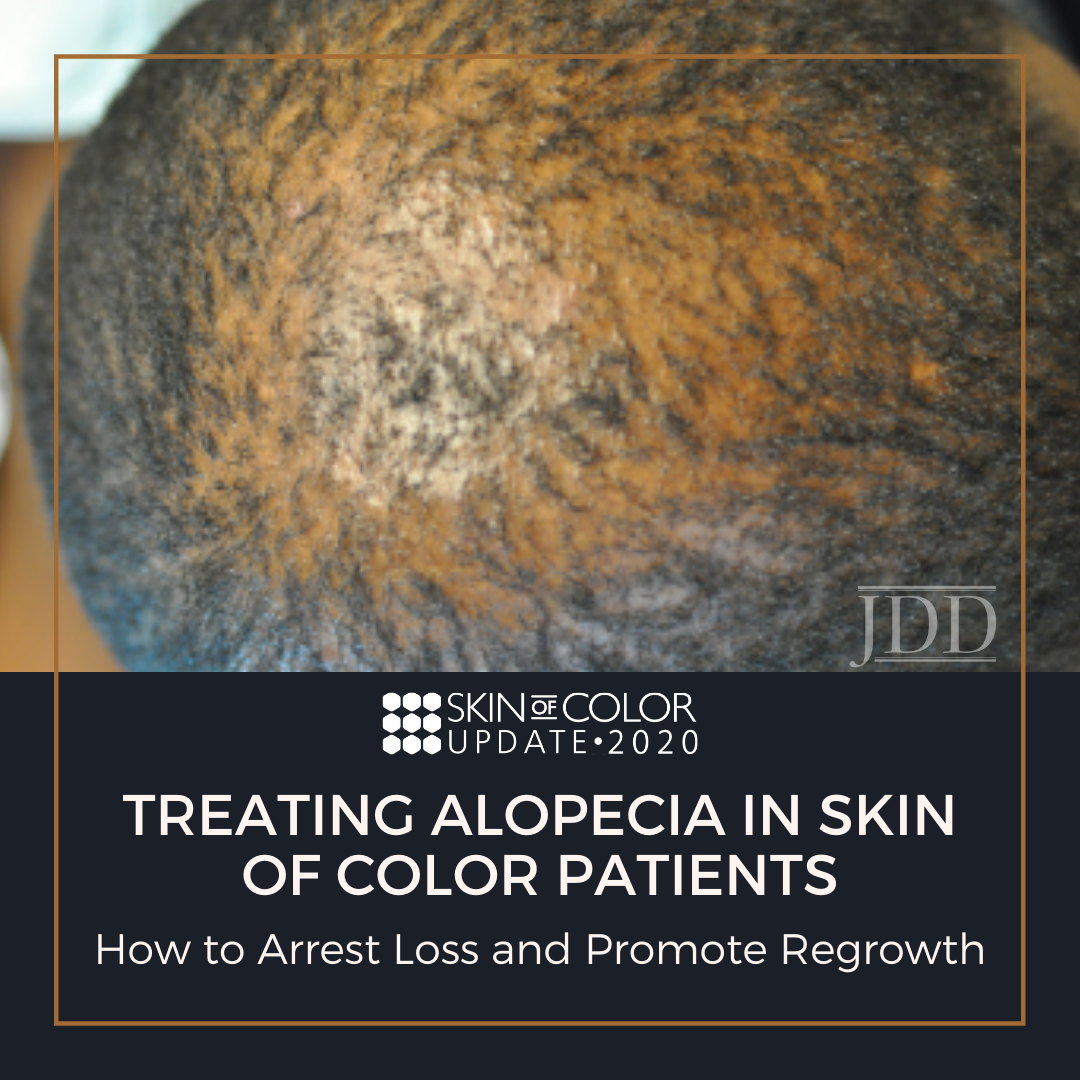 Source: Next Steps in Derm
Can you improve your culturally-competent hair loss consultation? Would you like to grow your toolbox for comprehensive alopecia treatment? If so, you are in the right place!
Hair loss is a frequent concern for patients visiting the dermatologist, especially in patients with pigmented skin types. Kinky or coiled hair has an innate fragility that makes African Americans especially prone to hair loss concerns. At the  2020 Skin of Color Virtual Update, Dr. Susan Taylor discussed Conventional Treatment Approaches for Hair & Scalp Disorders in Skin of Color Patients. Dr. Taylor advised how to have a culturally competent hair loss consultation, reviewed common patterns of hair loss, and highlighted comprehensive treatment of multifactorial causes of alopecia.
Before we get into therapeutic strategies for alopecia, let's highlight important considerations to institute an effective treatment plan:
Understand common ethnic hairstyles and practices
Recognize the impact of hair and scalp disorders
Clearly identify the problem and obtain a thorough history, including details regarding hair care practices, products used, and symptoms
Complete physical examination and consider scalp biopsy
Accurately diagnose the disease (see Table 1 for common causes of alopecia)
Effectively and competently partner with the patient to treat the disorder with appropriate therapy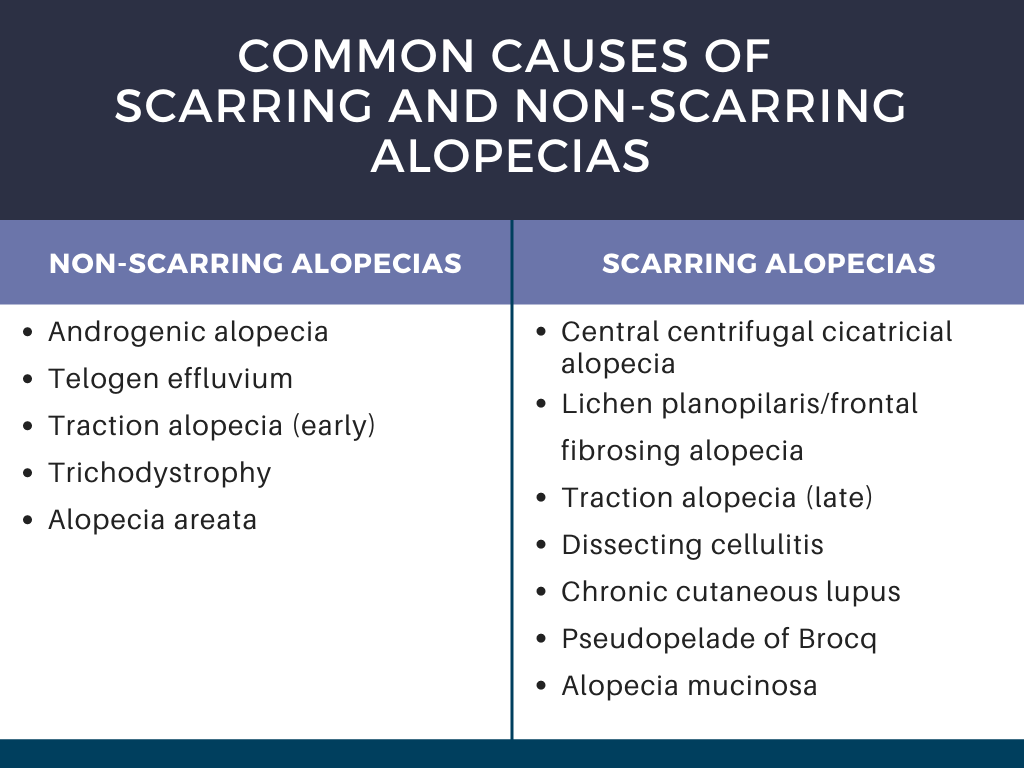 Dr. Taylor stressed the importance of culturally competent questioning during the visit. For example, asking an African American woman if she shampoos daily can reduce the patient's confidence in the physician's understanding of her hair type, especially during a race discordant visit. To build confidence, it is critical to understand routine hair practices and to be familiar with common products.
During the hair loss consultation, it is important to understand the problem experienced by the patient. Frequent symptoms noted by the patient that can clue in the underlying alopecia include:
Hair length is not increasing.
There is hair breakage.
Hair is falling out at the root.
There is decreased hair density.
There is focal or localized hair loss.
Other considerations include the duration of hair loss, any associated symptoms, and presence of family history of hair loss. Further, it is important to ask about their hair care history. The types of hairstyles used by the patient and the hair care routine should be discussed.
The physical exam should be thorough to evaluate the scalp and hair density, a hair pull test, and examination of the eyebrows and eyelashes. The presence of weaves, braids, or wig caps may impede evaluation. If the patient has any of these hairpieces on the scalp that cannot be easily removed during the visit, the patient should return for evaluation after these are removed. History can still be discussed during the visit, however, the co-pay should be refunded, and the patient should be offered an earlier appointment for evaluation of the hair and scalp.
Now that we have discussed how to approach the consultation, let's get into the alopecias! Dr. Taylor highlighted central centrifugal cicatricial alopecia, traction alopecia, and frontal fibrosing alopecia, as well as tips to minimize breakage, reduce hair tension, and scalp care to treat seborrheic dermatitis.
Central centrifugal cicatricial alopecia (CCCA) is a scarring alopecia seen in about 5.6% of African American women. It frequently starts with increased hair breakage at the vertex, and patients often have associated symptoms of itching, burning, tenderness, and soreness of the scalp. The goals of treatment are to aggressively treat the CCCA in the early stages to prevent progression, relieve symptoms, and possibly have some regrowth in the affected areas. There are no randomized controlled trials for CCCA treatment, thus evidence for treatment comes from case reports and series. The mainstay of treatment is corticosteroids (topical and intralesional), anti-inflammatory antibiotics, antimalarials, and minoxidil (topical and oral formulations). Anti-seborrheic shampoos, hair transplantation, and platelet-rich plasma injections serve as adjuncts to treatment. See Table 2 for detailed treatment options. Frequently multiple agents are used in combination to control the disease.
Two important areas of focus when treating CCCA that Dr. Taylor highlighted are practices to minimize hair breakage and treatment of frequently concurrent seborrheic dermatitis.