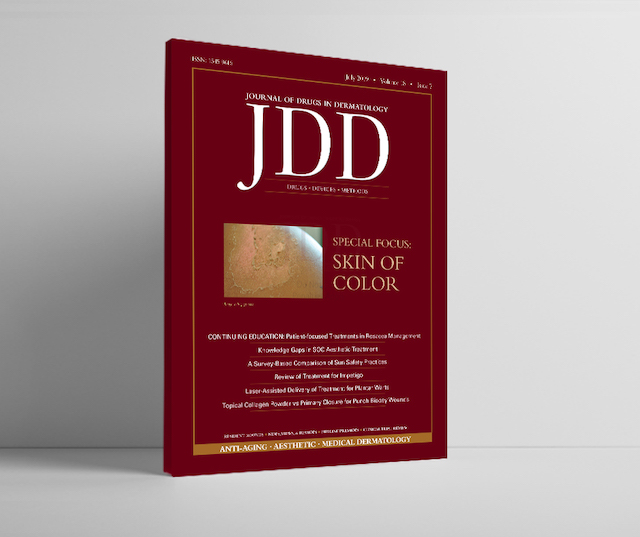 US Dermatologists, Dermatology Residents and Dermatology NP and PAs can create a free account on JDDonline.com to read the following Skin of Color annual issue highlights:
Patient-focused Solutions in Rosacea Management: Treatment Challenges in Special Patient Groups by Ahuva Cices MD and Andrew F. Alexis MD MPH aims to expand awareness of the impact of rosacea on QoL of patients of all ages, genders, and skin types. (CE credit is available)
Myths and Knowledge Gaps in the Aesthetic Treatment of Patients With Skin of Color, Andrew Alexis, MD et al.,  identifies knowledge gaps and myths concerning facial aesthetic treatment in individuals with SOC.
An online study was designed to survey facial aesthetic concerns, treatment priorities, and future treatment considerations in 2 companion articles, Understanding the Female Hispanic and Latino American Facial Aesthetic Patient and Understanding the Female Asian American Facial Aesthetic Patient.
In Vitro and In Vivo Efficacy and Tolerability of a Non-Hydroquinone, Multi-Action Skin Tone Correcting Cream Pearl Grimes, MD evaluates an alternative to HQ for improving skin tone.
A Survey-Based Comparison of Sun Safety Practices in a Representative Cohort of the General Public Versus Attendees of a Skin Cancer Screening examines sun-protection practices.
Topical Ozenoxacin Cream 1% for Impetigo: A Review explores the challenges of treating impetigo and growing concern of antimicrobial resistance.
Uncommon localizations of PLEVA pose a diagnostic challenge in An Atypical Presentation of PLEVA: Case Report and Review of the Literature