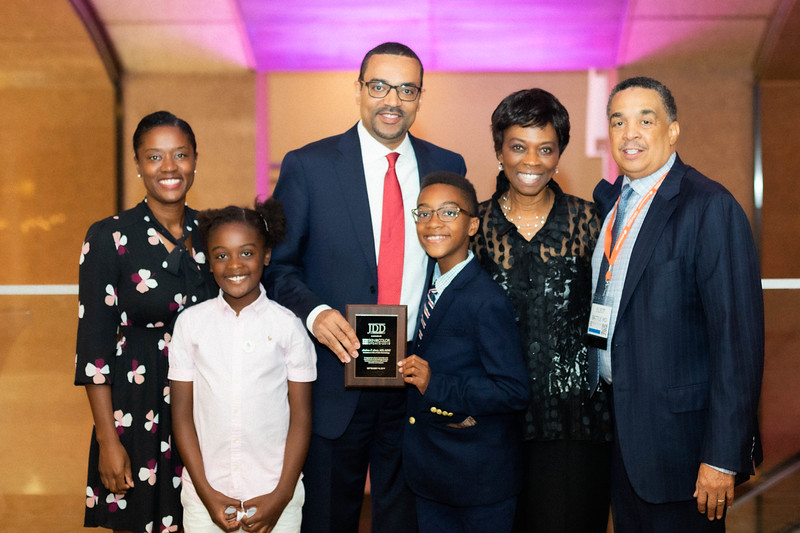 NEW YORK (Sept. 9, 2019)– The Journal of Drugs in Dermatology (JDD) presented dermatologist Andrew F. Alexis, MD, MPH, with the Innovations in Dermatology Award at Skin of Color Update, held September 7 and 8 in New York. The award recognizes individuals who have fostered innovation and improvement in dermatology through increased emphasis on education and research.
"Andrew F. Alexis, MD, MPH is committed and passionate — not only about being the best dermatologist he can be – but also about bringing skin of color education to dermatology," said Shelley Tanner, CEO and president of SanovaWorks, which produces the JDD and Skin of Color Update. "Through his efforts, the changing landscape of patients can now thrive through treatment and management plans that address their specific needs."
"Dr. Alexis is the top innovator in the dermatologic and cosmetic treatment of patients with skin of color," said dermatologist Eliot F. Battle, MD, co-chair of Skin of Color Update along with Dr. Alexis. "His decades of pioneering research in dermatology have led to the development of new procedures and products that address a wide range of dermatologic conditions. He compassionately treats his patients, shares his expertise by presenting throughout the world and gives back through mentoring the next generation of dermatologists and researchers. I am honored to serve alongside this distinguished innovator."
Dr. Alexis is chair of the department of dermatology and director of the Skin of Color Center at Mount Sinai St. Luke's and Mount Sinai West, New York. As such, he is actively involved in advancing patient care, research and education pertaining to dermatologic disorders that are prevalent in ethnic skin. He is also professor of dermatology at the Icahn School of Medicine at Mount Sinai.
Dr. Alexis is the co-founder and co-chair of SOCU, now in it's 10th year.