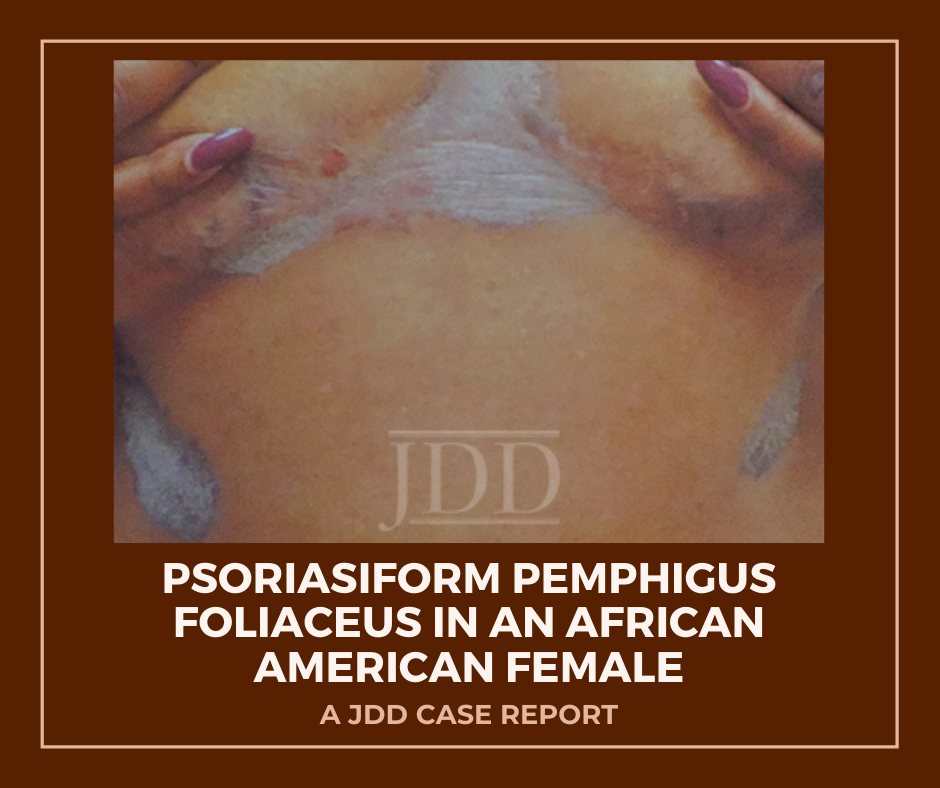 JDD authors document and highlight this atypical psoriasiform presentation of Pemphigus Foliaceus in a patient with skin of color to raise awareness and improve diagnosis and outcomes.
Case Report
A 50-year-old African-American woman presented to the dermatology clinic with a pruritic eruption of 3 years' duration that began as discrete plaques on the inframammary folds and subsequently spread towards the mid-chest, ears, back, elbows, knees, and scalp. Past treatments by other clinicians included clotrimazole cream and a topical corticosteroid of unknown potency without significant improvement. She denied any new medications and was taking aspirin, divalproex, mirtazapine, cetirizine, venlafaxine, atorvastatin, and omeprazole.
On clinical examination, the patient had well-demarcated, pink, atrophic plaques and superficial erosions over the inframammary folds and mid-chest (Figures 1). She also had well-demarcated, hyperpigmented, hyperkeratotic scaly plaques over the abdomen, suprapubic region, elbows, knees, and back with sporadic small superficial blisters (Figure 2). Complete blood count, complete metabolic panel, rheumatoid factor, and antinuclear antibody were within normal limits. Rapid plasma reagin test was negative. Erythrocyte sedimentation rate was elevated at 54 millimeter/hour (reference range 0-22 millimeter/hour). A punch biopsy of the right abdomen was performed and revealed psoriasiform epidermal hyperplasia, focal parakeratosis, and acantholysis throughout the superficial spinous and granular layers (Figure 3). Only a sparse inflammatory infiltrate was present in the underlying dermis. These clinical and histological findings supported the diagnosis of pemphigus foliaceus (PF). Patient was started on 50 mg oral dapsone daily.
Discussion
Herein, we present a case of Pemphigus Foliaceus with a psoriasiform clinical presentation in an African-American patient. PF is an autoimmune skin disease caused by antibodies against the desmosomal glycoprotein, desmoglein 1.¹ Desmogleins, members of the cadherin family, serve to anchor epidermal desmosomes between adjacent keratinocytes and assist in epithelial differentiation.² Antibodies targeting desmoglein 1 result in acantholysis in the upper epidermis with limited separation in the basal layers and minimal mucosal involvement as desmoglein 1 is primarily expressed in the granular layer of the non-mucosal epidermis.¹ Patients present with scaly plaques on an erythematous base and fragile shallow blisters which are infrequently found intact; rarely, the condition can progress to exfoliative erythroderma.1,3 Initially, PF usually presents on the trunk, face, or scalp, but may subsequently involve other regions of the skin.1 Diagnosis may be confirmed with biopsy and direct immunofluorescence with intercellular IgG and C3 limited to the upper epidermis. Treatment includes oral and topical steroids, azathioprine, dapsone, and rituximab. The differential diagnosis for PF may include systemic lupus erythematosus, bullous impetigo, psoriasis, and seborrheic keratosis depending on the presentation.1
Physical exam findings in this patient were suggestive of PF due to the presence of superficial secondary erosions and "corn flake-like" scales, but psoriasis was included in the differential diagnosis due to the presence of discrete plaques with an erythematous border. PF is a relatively rare condition with a prevalence of less than 1 case per 100,000 and is about 5 to 10 times less common than pemphigus vulgaris.4 In contrast, psoriasis impacts approximately 2-4% of people in the United States.5 An endemic form of PF, fogo selvagem, has been reported in Brazil, Colombia, Peru, and Tunisia, while pemphigus vulgaris is more common in Mediterranean and Ashkenazi Jewish populations.4
We hypothesize that patients with psoriasiform presentations of PF may be misdiagnosed with plaque psoriasis. One author (JJ) has previous significant clinical experience with patients with skin of color and has seen other skin of color patients present with a psoriasiform manifestation of PF. PF and psoriasis share similar treatments including topical corticosteroids and immunosuppressants, and this may lead to underreporting of PF with psoriasiform manifestations. It is important to distinguish between these findings as there is evidence that ultraviolet light, a common treatment for psoriasis, may exacerbate PF.6,7 We performed a search of the published literature and identified one article that describes three patients with pemphigus erythematosus, a variant of PF, which was misdiagnosed as psoriasis.8 No identified articles described cases of PF with a psoriasiform presentation in patients with skin of color. We document and highlight this atypical psoriasiform presentation of PF in a patient with skin of color to raise awareness and improve diagnosis and patient outcomes.
Disclosures
The authors have no relevant disclosures. The contents do not represent the views of the U.S. Department of Veterans Affairs or the United States Government. This material is the result of work supported with resources and the use of facilities at the Sacramento VA Medical Center.
References
James KA, Culton DA, Diaz LA. Diagnosis and clinical features of pemphigus foliaceus. Dermatol Clin. 2011;29(3):405-412, viii.
Simpson CL, Patel DM, Green KJ. Deconstructing the skin: cytoarchitectural determinants of epidermal morphogenesis. Nat Rev Mol Cell Biol. 2011;12(9):565-580.
Kershenovich R, Hodak E, Mimouni D. Diagnosis and classification of pemphigus and bullous pemphigoid. Autoimmun Rev. 2014;13(4):477-481.
Meyer N, Misery L. Geoepidemiologic considerations of auto-immune pemphigus. Autoimmun Rev. 2010;9(5):A379-A382.
Rachakonda TD, Schupp CW, Armstrong AW. Psoriasis prevalence among adults in the United States. J Am Acad Dermatol. 2014;70(3):512-516.
Ruocco V, Ruocco E, Schiavo AL, Brunetti G, Guerrera LP, Wolf R. Pemphigus: Etiology, pathogenesis, and inducing or triggering factors: Facts and controversies. Clin Dermatol. 2013;31(4):374-381.
Aghassi D, Dover JS. Pemphigus foliaceus induced by psoralen-UV-A. Arch Dermatol. 1998;134(10):1300-1301.
Oktarina DA, Poot AM, Kramer D, Diercks GF, Jonkman MF, Pas HH. The IgG "lupus-band" deposition pattern of pemphigus erythematosus: association with the desmoglein 1 ectodomain as revealed by 3 cases. Arch Dermatol. 2012;148(10):1173-1178.
Originally published in the Journal of Drugs in Dermatology in April 2018. 
Evan Austin BS, Jillian W. Millsop MD, Haines Ely MD, Jared Jagdeo MD MS, and Joshua M. Schulman MD (2018). Psoriasiform Pemphigus Foliaceus in an African American Female: An Important Clinical Manifestation. Journal of Drugs in Dermatology, 17(14), 471-473. https://jddonline.com/articles/dermatology/S1545961618P0471X 
Content and images republished with permission from the Journal of Drugs in Dermatology.
Adapted from original article for length and style.
The Journal of Drugs in Dermatology is available complimentary to US dermatologists, US dermatology residents, and US dermatology NP/PA. Create an account on JDDonline.com and access over 15 years of PubMed/MEDLINE archived content.
Did you enjoy this case report? You can find more here.