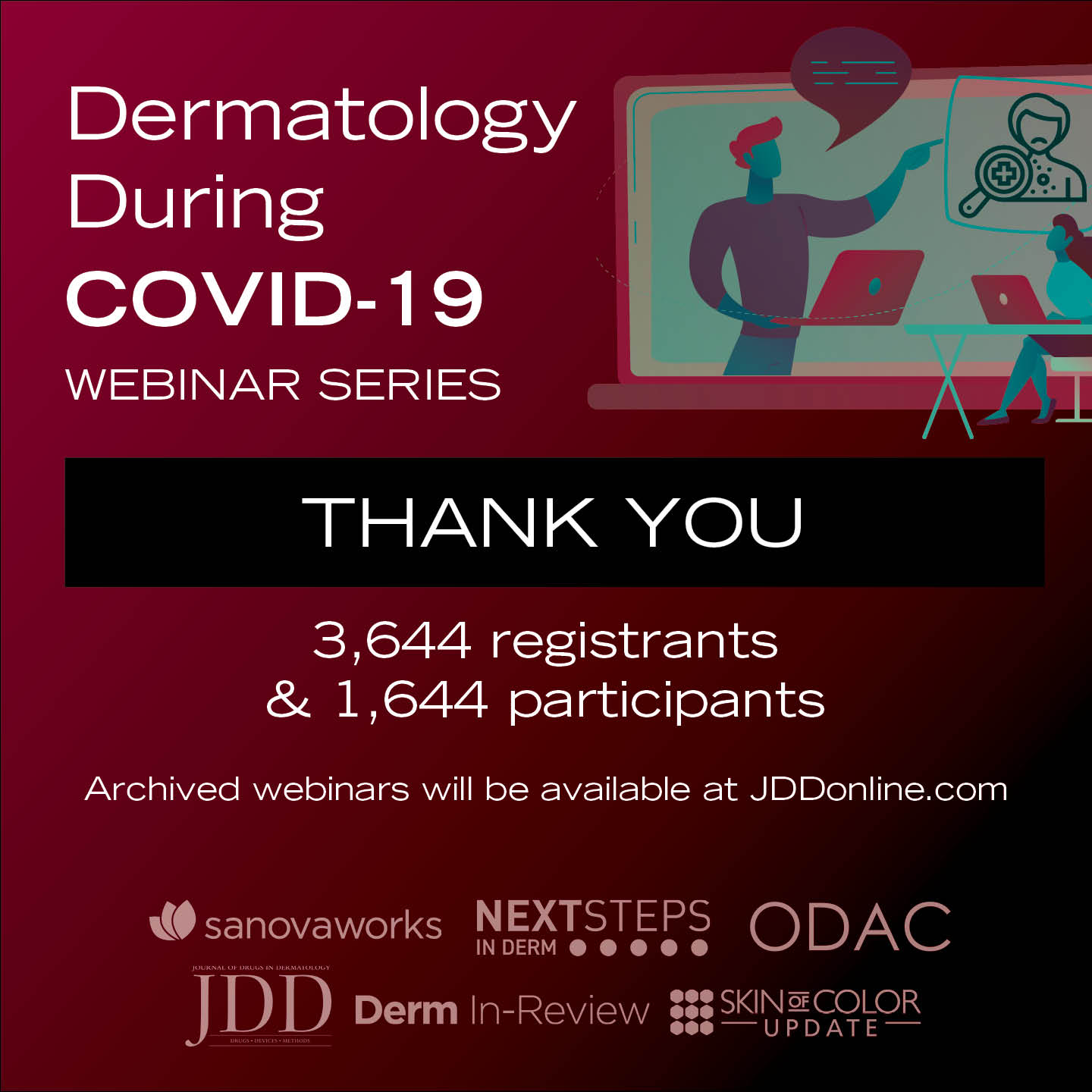 On April, 1, 2020, the Journal of Drugs in Dermatology (JDD) and SanovaWorks brands, including Skin of Color Update, launched Part I of the webinar series: COVID-19: Urgent Dermatology and Aesthetic Issues for Dermatology.
Over the course of the 2 hours, Joel L. Cohen, MD and 6 different thought leaders joined the COVID-19 conversation, discussing the pressing questions that are on the minds of many dermatologists and providers in the country. The initial broadcast attracted 1,900 registrants and nearly 800 attendees comprised of physicians, residents, fellows, nurse practitioners and physician assistants.  Attendees were interested and engaged throughout the entire 2 hours with a 76% average attentiveness and 72% average interest rating.
The on-demand broadcast has attracted over 500 registrants as of April 9th and is available on JDDonline.com.
On April 7, 2020, Part II of the webinar series was broadcasted: COVID-19: Your Questions Answered. Dermatology experts and thought leaders examined the legal and financial concerns of dermatology providers during the global coronavirus pandemic. Experts discussed furlough vs. layoffs; mortgage and rent relief programs; the CARES Act; the pros and cons of leveraging NPs or PAs for teledermatology and more. Then, hear questions answered by our panel of experts; discussed practical tips you can use in your practice right now; and how to move forward with patient care. Part II attracted 1,300 registrants with nearly 700 attendees. Attendees were engaged and interested throughout with an 82% attentiveness average and 75+% interest rating.
The on-demand broadcast of Part II will be available on April 11, 2020 on JDDonline.com.