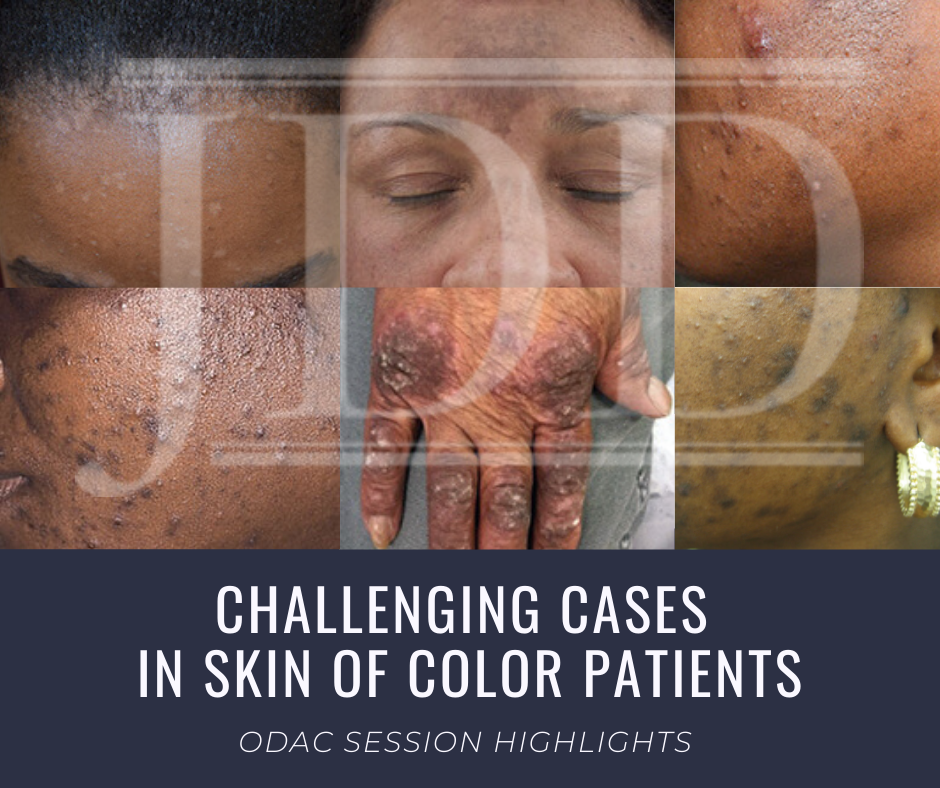 Source: Next Steps in Derm
This year at the 17th Annual ODAC Dermatology, Aesthetic & Surgical Conference (ODAC), Dr Amy McMichael presented the audience with new pearls of advice on how to approach and diagnose complex medical dermatology cases in patients with skin of color. During her session, she addressed the important need for providers to be able to recognize disease in patients of all races. The majority of the global population consists of people with skin of color and the US population is changing to include a higher percentage of patients with diverse backgrounds. She covered a wide range of diagnoses from psoriasis to melasma and how these may present differently is darker skin types. As she walked the audience through each case it became apparent that being able to recognize and treat certain conditions in patients with skin of color is not only essential but also complex in nature.
First, Dr McMichael summarized the top conditions that African American patients were evaluated for during a dermatologist visit. The top 6 conditions included:
unspecified dermatitis
pigmentary concerns
This helped to set the scene for the first case involving a 40-year-old African American female with hidradenitis suppurativa presenting with draining gluteal plaques. Even though the biopsy showed granulomatous dermatitis, the patient was not improving with multiple treatments and developed worsening pain and drainage from gluteal plaques. On a second biopsy the pathology showed psoriasis with granulomatous changes. The patient eventually improved with the systemic treatment Humira, a TNF-a inhibitor. Her major takeaways from this case included:
Do a second biopsy if the patient's skin is not responding as expected to the treatment you have prescribed
Psoriasis can have a unique presentation similar to existing hidradenitis
Use systemic treatments early to help control symptoms
Second, she tackled the challenge of treating melasma with combination therapies. In melasma, there is too much melanin being created by melanocytes and it is then carried by keratinocytes. These cells then release melanin into the dermis, causing blotchy pigmentation often on the face. Topical therapies are usually directed towards preventing increased creation of melanin by melanocytes. People often use hydroquinone 2% or 4% along with encouragement of consistent daily sunscreen use. If used at too high of a concentration, then hydroquinone may cause ochronosis (skin becomes bluish – grey).
Dr McMichael suggested adding a novel treatment called cysteamine to the regimen for melasma treatment for more effective results. Cysteamine is an aminothiol that is made in our cells from the amino acid cysteine. Although more interest is arising now for its use in treating melasma, cysteamine was actually researched in 1966 when scientist Dr Chavin injected it into black goldfish skin and observed partial depigmentation. Cysteamine 5% cream may be a more effect treatment for melasma with less side effects.
Another novel treatment Dr McMichael discussed was the use of tranexamic acid for resistant melasma. This is another derivative of an amino acid, lysine, and it works as an anti-fibrinolytic. It has the ability to block UV-induced plasmin activity within keratinocytes. Patients would need to be screened out by their providers for a past medical history of DVT, pulmonary embolism, heart disease, and stroke before starting the oral medication. She emphasized the importance of getting a good medical history related to these conditions since tranexamic acid could increase the risk of these conditions. For patients who are able to take the medication they are expected to experience a few side effects such as mild GI upset and palpitations. This medication could provide improvement for many patients with chronic melasma who have had to struggle with this condition.
Third, in the next case we were reminded by Dr McMichael that keloids can be very disfiguring and distressful to patients. She talked about using intralesional Kenalog with contact cryotherapy as effective treatments of keloids. Other options for treatment included combining cryosurgery, intralesional Kenalog, and doxycycline. It was eye opening for the audience to hear her say we should be thinking about keloids not just as scars but tumors representing overgrowth of tissue. This paradigm shift of how we think about keloids can further shape how we think about treatment modalities for keloids as well.